Harman Kardon Citation Oasis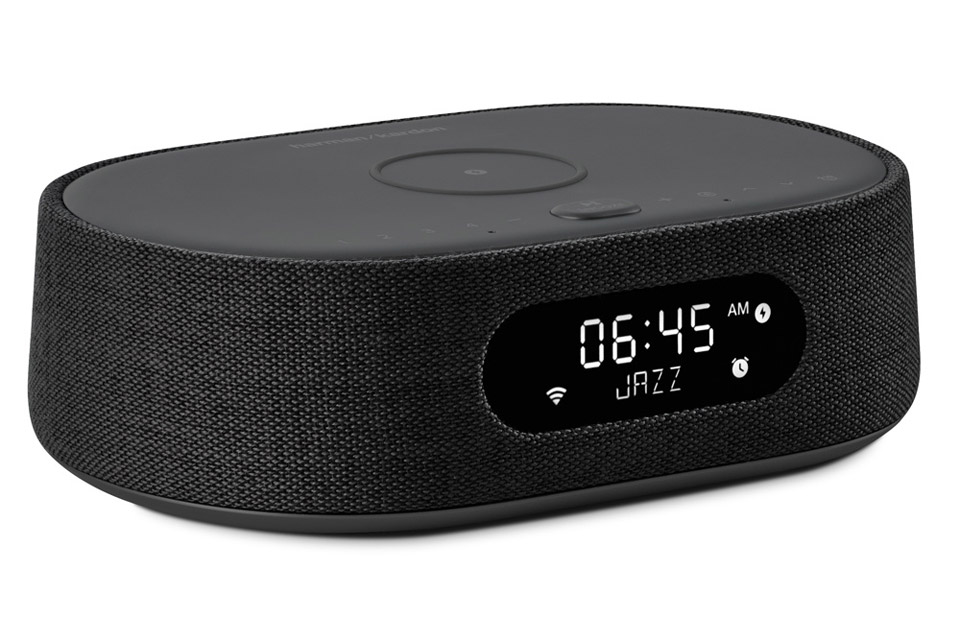 It is a clock radio with modern features, the perfect guest in your bedroom. Wake up to your music and charge your mobile with Qi.
SUPERIOR SOUND AND SOPHISTICATION
The first truly premium product of its kind, the Harman Kardon Citation Oasis is the ultimate in state-of-the-art audio from Harman Kardon, the world's foremost purveyor of high fidelity audio products for over 65 years.
Superior sound and elegance
As the first truly premium product in its class, the Harman Kardon Citation Oasis is the ultimate high-tech audio device from Harman Kardon, the world's leading provider of high-fidelity audio products for over 65 years.
Excellent design
The Harman Kardon Citation Oasis combines innovative audio technology with sophisticated design. The high-quality fabric from Kvadrat is dirt-repellent and flame-retardant.
Convenient wireless charging in every room
Place your Qi-enabled smartphone on the integrated wireless charging pad for convenient wireless charging. The Harman Kardon Citation Oasis also has a USB port for charging other devices.
Easy to set up with Google Home
With the free Google Home app for iOS and Android, you can easily set up and manage all of your Harman Kardon Citation speakers. All speakers support WiFi connections at 2.4 GHz and 5 GHz.
Simply deactivate the WLAN for undisturbed sleep
Harman Kardon Citation Oasis has a special WiFi night switch that turns WiFi off between 12:00 AM and 6:00 AM.
Set alarms quickly and easily with your voice
Gone are the days when setting an alarm required pressing multiple buttons. The Harman Kardon Citation Oasis allows you to set multiple alarms with a simple voice command. With Google you can set up multiple alarms, choose a specific station or playlist to wake you up, and even instruct you to wake you up with different sounds on different days.
Tune in to your favorite radio station
With digital DAB radio, you can access a large selection of radio stations and play them with crystal clear sound.
Enjoy Apple Music with AirPlay
Discover new artists and access your favorite Apple Music playlists with AirPlay. Use the iPhone app to choose your soundtrack and create atmosphere throughout your home.
Access to 300+ music streaming services
Relax, recharge your batteries, discover. The Harman Kardon Citation Oasis gives you Chromecast built-in ™ access to over 300 music streaming services. Enjoy all your favorite audio content, internet radio and podcasts in stunning HD quality.
Privacy
Be in control of how you connect and what you share. Harman Kardon Citation's microphones are easy to turn on and off, providing the security and privacy you want. Multi-colored LED indicators allow you to quickly check the current status of the microphones.
Wireless streaming via Bluetooth®
Harman Kardon Citation makes it easy to stream audio from your smartphone or tablet wirelessly via Bluetooth®, so you can turn internet audio into an immersive music experience.
Quick help from Google – simply by voice command
With the Harman Kardon Citation Oasis, you can use your voice to ask Google to play your favorite songs and have easy access to all of your music. Just say "Hey Google" and there you go!
Always up to date
Easily keep your features and services up to date. Software updates and upgrades are automatically downloaded and installed on your system. Maintaining state-of-the-art home audio has never been easier.
Instant access to your favorite channels
With four practical preset buttons, you have instant access to your favorite DAB / DAB + radio stations with a simple tap.
Your music everywhere
Fill your home with a single soundtrack or play different music in each room. Simply add additional Citation speakers to your Harman Kardon Citation Oasis for a complete home sound experience controlled from your tablet or smartphone.
Wonderful sound that speaks to you.
The Harman Kardon Citation Oasis is beautiful and restrained in design and brings the rich Harman Kardon sound into every room. Custom alarms and WiFi night service are perfect for the bedroom, while wireless cell phone charging and DAB / DAB + radio make it ideal for use in the kitchen. Combine it with other Citation speakers to complete your home sound experience and get access to over 300 music streaming services via integrated Chromecast and AirPlay technology. With the convenient voice control of the Google Assistant, it is the perfect addition to any modern home.
Your guests will enjoy the following:
Excellent design

Superior sound and elegance

Convenient wireless charging in every room

Set alarms quickly and easily with your voice

Simply deactivate the WLAN for undisturbed sleep

Instant access to your favorite channels

Tune in to your favorite radio station

Your music everywhere

Quick help from Google – simply by voice command

Access to 300+ music streaming services

Enjoy Apple Music with AirPlay

privacy

Always up to date

Easy to set up with Google Home

Wireless streaming via Bluetooth®